Offered by our Registered Nurse, micro-dermabrasion is the perfect treatment for patients who want a fresher, clearer, more evenly toned complexion with fewer breakouts and smaller pores. It's like taking your skin to the gym to get it in good shape. It may be combined with your Laser/BBL program to speed up the appearance of fresh, clear skin.
What our micro-dermabrasion treatments include: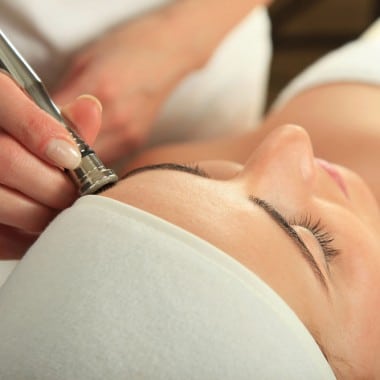 First, we use a diamond tipped suction wand to gently buffs and polish dull or sun damaged cells. Manual extraction is included if required, I then apply an enzyme hydropeel or light AHA/BHA exfoliating treatment to gently unglue the remaining dead surface cells from the stratum corneum. This deeply cleanses pores to help congestion and refines the surface of the skin. Your treatment is finished with an application of hydrating vitamin B, and a hydrating mask.
The treatment takes 45-60 minutes and costs $130.
Can I save money with a package deal?
I don't generally do packages as rarely does a series of Micro-dermabrasion treat a specific condition, I will of course advise if it is suitable, but I am more likely to point you in the direction of a treatment that will address your needs first up, saving you time and money. Micro-dermabrasion is fabulous for a mid season clean up when your skin feels like it needs a spruce up.
Microdermabrasion is recommended for…
pigmentation
repairing early sun damage
preventing breakouts
generally helping to make the skin feel fresher and brighter
It's a great clean up treatment which Kathleen, our Registered Nurse, recommends doing 1-2 weeks after a BBL photo rejuvenation treatment. This instantly aids in the removal of brown spots treated by the BBL, and improves hydration.
Does microdermabrasion work for acne?
While this treatment is useful to those with acne prone skin, for active acne we recommend our medical grade BBL laser treatment, which effectively targets bacteria building up in the skin, reduces pimples and prevents scarring or Sebaceous Gland Ablation treatment. come in and let me take a look at your skin and I can advise.
How is Minnamurra MediSpa different to most other cosmetic clinics?                                                         A lot of skin clinics rely on selling packages upfront to ensure you keep coming back, they rely on you spending extra each time you come by purchasing additional products. They usually recommend a series of micros, maybe then a series or 'enzyme' treatments, and perhaps some sessions with light therapy, the list goes on. The aim is to get you back 10-15 time maximising your spend. You usually leave feeling like you have been locked in or coerced into something you are not entirely sure of its value & worried you have spent too much. I don't like this approach, in fact I despise it. Often your condition can be addressed with one to three treatments straight up. If my treatment works for you and you are happy with your result you will continue to come back for the same high quality honest care. I don't need to sell you a package to make you come back, you should want to return based on the results and care you have received.
When I meet you I will ask you to look in the mirror and point to what bothers you. It is important that I see what you see. I can then advise of different treatment options. By discussing all of your options I can put you in a position where you make an informed decision, with a risk profile you understand and hopefully a budget that you are comfortable with. My patients really value my honesty, and my dream to help everyone have the quality of skin they desire without breaking the household budget and feeling guilty for looking after yourself. Sometimes I don't have the treatment available that you need. I may need to send you to see someone else, which I don't hesitate in doing. In this case I may apply a $55 consultation fee, so that I can honestly send you where you need to go and not need to sell my own treatments to cover my time. I have a lot of experience working with multiple plastic surgeons and dermatologists, as well as GP's that specialise in cosmetic and skin and skin cancer care. This approach is ethical and fair to both you and I. You don't get led up a garden path.
To book an initial skin consultation with Kathleen please click here.